Axens signs a partnership with two Paralympians to strengthen its disability policy
Learn more

With over 2,000 employees in 15 countries, including 1,250 in France, Axens has been committed to an ambitious Diversity and Inclusion policy for several years. One of the key objectives of this policy is to promote better integration of disabled staff within the company.
To this aim, Axens has asked two internationally renowned para-athletes to assist them in implementing awareness-raising initiatives on disability and promoting diversity among all its employees.
Better integrating disability within Axens is one of our priorities, so we can offer our employees and those who join us a more inclusive work environment. Collaborating with high-level athletes who have disabilities will enable us to progress faster in this ambition."
Jean Sentenac
CEO of Axens
The key objectives of the partnership include:
Awareness-raising activities for Axens employees, notably internal events at various Axens locations, including its headquarters and its industrial site in Salindres, France.
Assistance in recruiting individuals with disabilities.
Advice and support in managing the careers of people with disabilities.
Information and advisory actions for Axens throughout the MISSION HANDICAP project.
Sharing and exchanging experiences with Manon Genest and Maxime Thomas will be crucial to the success of this initiative.
Our goal is threefold through these actions: to promote the inclusion of our employees who are already living with disabilities and are identified as such internally, but also to facilitate and normalize the disclosure of disabilities for those who may be hesitant to do so. Lastly, we aim to encourage our managers to recruit new talents with disabilities. As a result, this dynamic not only helps us to move forward on the subject but also, makes the commitment that Axens has towards social responsibility tangible.
Stéphanie Parisse-Faux
Director of Human Resources at Axens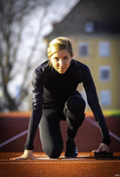 Manon Genest is 31 years old and is a French champion in the 200m and 400m long jump, as well as a world paratriathlon champion. After a serious car accident that caused her hemiplegia at the age of 22, she chose to rebuild herself and reclaim her body through sports after spending five months in a care and rehabilitation center. She decided to train for the paratriathlon and so had to relearn how to walk, run, swim, and ride a bike. Swimming with only her right arm and adapting her bike to brake with only her right hand, Manon's tenacity and remarkable progress granted her a place on the podium in her first paratriathlon in the spring of 2016, just one year after her devastating accident. Since then, Manon has joined the French national athletics team for athletes with disabilities and has achieved remarkable performances at the highest level. She was named Etoile du Sport (Sports Star) in 2019, becoming the first female Paralympic athlete to receive this distinction.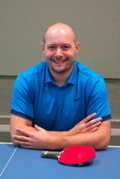 Maxime Thomas is 40 years old. He is ranked No. 3 in the world and has won multiple Paralympic medals in table tennis. At the age of 15, Maxime contracted an autoimmune disease that left him paraplegic. After his rehabilitation, he had one wish: to get back into sports and move on with his life. In 2000, he discovered table tennis. He was amazed by the medal-winning athletes at the Paralympic Games in Sydney and was determined to follow in their footsteps. His speed, game reading ability, and precision in his movements propelled him to the highest level, breaking into the top 5 world rankings in 2007. Since then, he has consistently performed well and won numerous titles. Maxime was ranked No. 1 in the world in 2010 and 2011. He is a four-time Paralympic medalist with a clear objective: to become a Paralympic champion at the Paris games in 2024.
About Axens 
Axens group provides a complete range of solutions for the conversion of oil and biomass to cleaner fuels, the production and purification of major petrochemical intermediates, the chemical recycling of plastics, all natural gas treatment and conversion options along with water treatment and carbon capture. The offer includes technologies, equipment, furnaces, modular units, catalysts, adsorbents and related services. Axens is ideally positioned to cover the entire value chain, from feasibility study to unit start-up and follow-up throughout the entire unit life cycle. This unique position ensures the highest level of performance with a reduced environmental footprint. Axens global offer is based on highly trained human resources, modern production facilities and an extended global network for industrial, technical supports & commercial services. Axens is an IFP Group company.
Learn more on our website, and follow us on Twitter and Linkedin.
Press contacts : Lisa Wyler Communication Agency
Lisa Wyler - lisa@lisa-wyler.com - 06 33 66 86 29
Virginie Debuisson - virginie.debuisson@lisa-wyler.com - 06 10 80 06 52