First Axens PolyFuel® unit successfully started up at Petrobrazi refinery

Oil Refining
Oligomerization
+ 1
After four years of teamwork for project development and execution, the new PolyFuel® unit at Petrobrazi refinery was started-up and is fully functional since April 2019.
Based on the PolyFuel® technology licensed by Axens, the OMV Petrom's project at Petrobrazi refinery enables to increase the FCC products value by upgrading LPG and Light Cracked Naphtha into high quality fuels. In June 2019, the unit test-run was successfully completed, demonstrating that the unit performances are well in line with the expectations.
"The PolyFuel® unit of Petrobrazi refinery is the first of its kind valorizing C4 and C5 / C6 fractions into high quality gasoline and middle distillates, increasing the overall production of these products" said Bruno Domergue, Axens clean fuels, Bio, Olefins and Gas business line Director.
"The new Polyfuel unit brings the state-of-the-art technologies used in the petrochemical and refining industry to the Petrobrazi refinery. Due to sustained investments, Petrobrazi continues to rank among the most important refineries in Romania, operating at the highest standards –energy efficiency and environmental standards included – and contributing to the economic development of the area", said Radu Căprău, member of OMV Petrom Executive Board, responsible for Downstream Oil.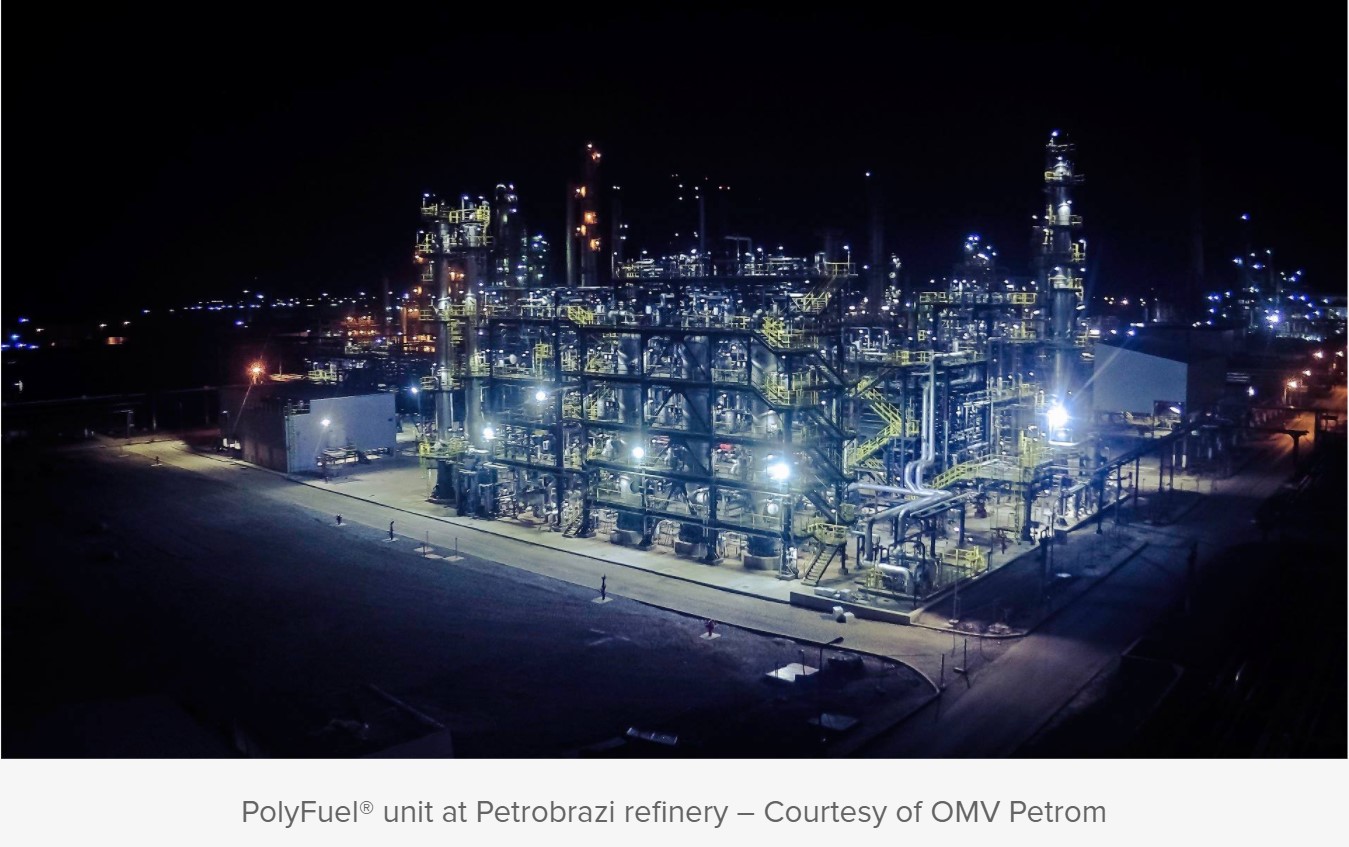 ---
About OMV Petrom
OMV Petrom is the largest energy company in South-Eastern Europe with an annual hydrocarbon production of 58.3 million boe in 2018. The Group has a refining capacity of 4.5 million tons annually and operates an 860 MW high-efficiency power plant. The Group is present on the oil products retail markets in Romania and neighbouring countries through 794 filling stations, as at the end of 2018, under two brands – OMV and Petrom.
About PolyFuel® Technology
PolyFuel® is an Axens' oligomerization technology aimed at converting light olefins from LPG and light naphtha, produced by the FCC, into car fuels at minimum cost. PolyFuel technology is the result of Axens' extensive industrial experience in the field of olefins conversions into fuels through Polynaphtha™ and Selectopol™ processes.
About Petrobrazi Refinery
With a refining capacity of 4.5 million tons per year, Petrobrazi ranks among the most important units of its kind in the country.
Between 2005 and 2018, approximately EUR 1.6 billion were put into in modernization projects, new facilities construction and environmental projects at the Petrobrazi refinery. The Petrobrazi refinery currently operates at the highest performance and environmental standards.
About Axens
Axens is a group providing a complete range of solutions for the conversion of oil and biomass to cleaner fuels, the production and purification of major petrochemical intermediates as well as all of natural gas' treatment and conversion options. The offer includes technologies, equipment, furnaces, modular units, catalysts, adsorbents and related services. Axens is ideally positioned to cover the entire value chain, from feasibility study to unit start-up and follow-up throughout the entire unit cycle life. This unique position ensures the highest level of performance with a reduced environmental footprint. Axens global offer is based on highly trained human resources, modern production facilities and an extended global network for industrial, technical supports & commercial services.
Press Contact:
Corinne GARRIGA
Head of Axens Group Communications
corinne.garriga@axens.net
Tel.: +33 1 47 14 25 14
Mob.: +33 6 73 85 84 02
89, bd Franklin Roosevelt – 92500 Rueil-Malmaison – France