Reactor Internals
In today's complex environment, refineries and petrochemical plants around the world need advanced solutions to reach operational excellence. In units featuring fixed-bed reactors, the use of high-efficiency reactor internals are essential to help achieve this goal.
Download Commercial Bulletin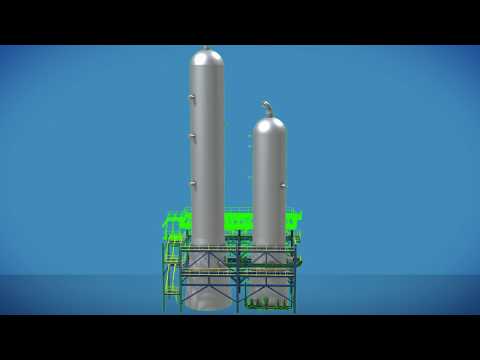 EquiFlow® is the latest generation of reactor internals for hydrotreatment reactors. Its purpose is to provide excellent flow distribution starting at the inlet of the catalyst bed in order to maximize the efficiency of the catalyst.
The implementation of EquiFlow® technology maintains a perfect gas/liquid distribution through the catalytic bed to guarantee the performance while also maximizing the cycle duration. The principle is to ensure an optimized mixing of the gas and the liquid phases before entering the catalytic bed ensuring that the entire reactor the catalyst inventory is acting efficiently.
EquiFlow® distributor trays
EquiFlow® distributor trays employ a dispersive system located below a chimney tray to ensure close-to-ideal vapor/liquid distribution throughout the catalytic bed underneath. 
Depending on the application, several options are available: 
Hy-Tray™ is the latest generation of trays, with improved efficiency in terms distribution.  
In addition, Hy-Clean™, a smart filtering tray system has been developed for services that are prone to fouling. 
Hy-Mix™, Hy-Sep™ and Hy-Up™ for selective hydrogenation services 
Hy-Quench XM™ 
Hy-Quench-NG™
EquiFlow® Reactor Internals portfolio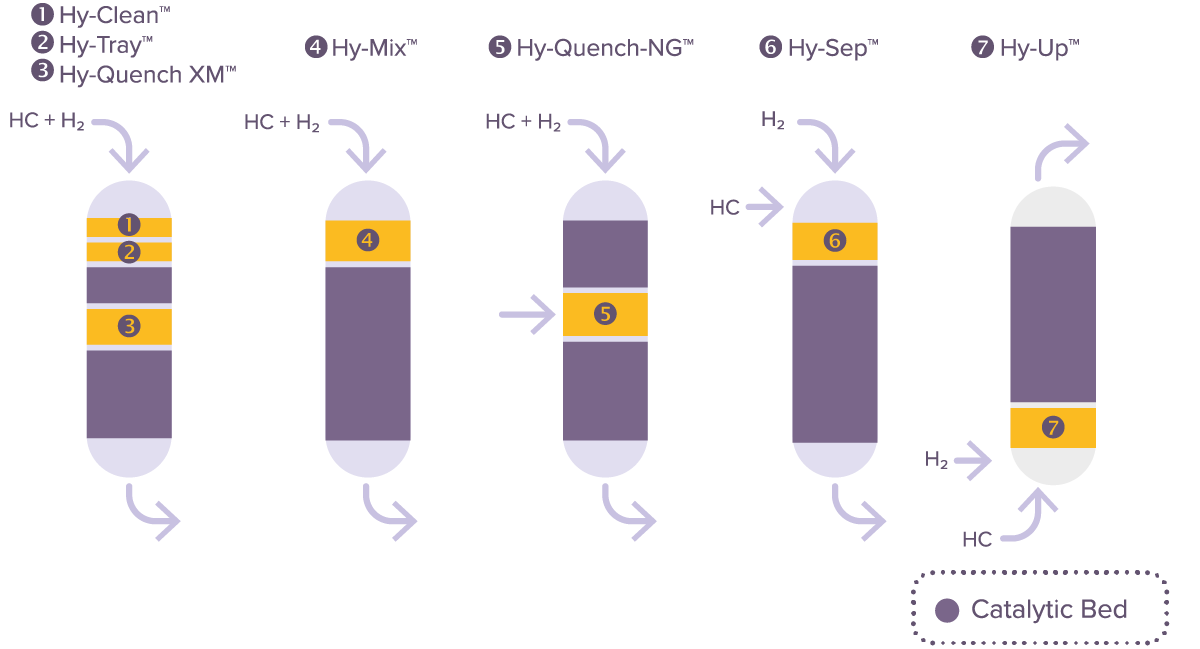 Temperature profile with conventional tray vs near ideal temperature profile with EquiFlow® tray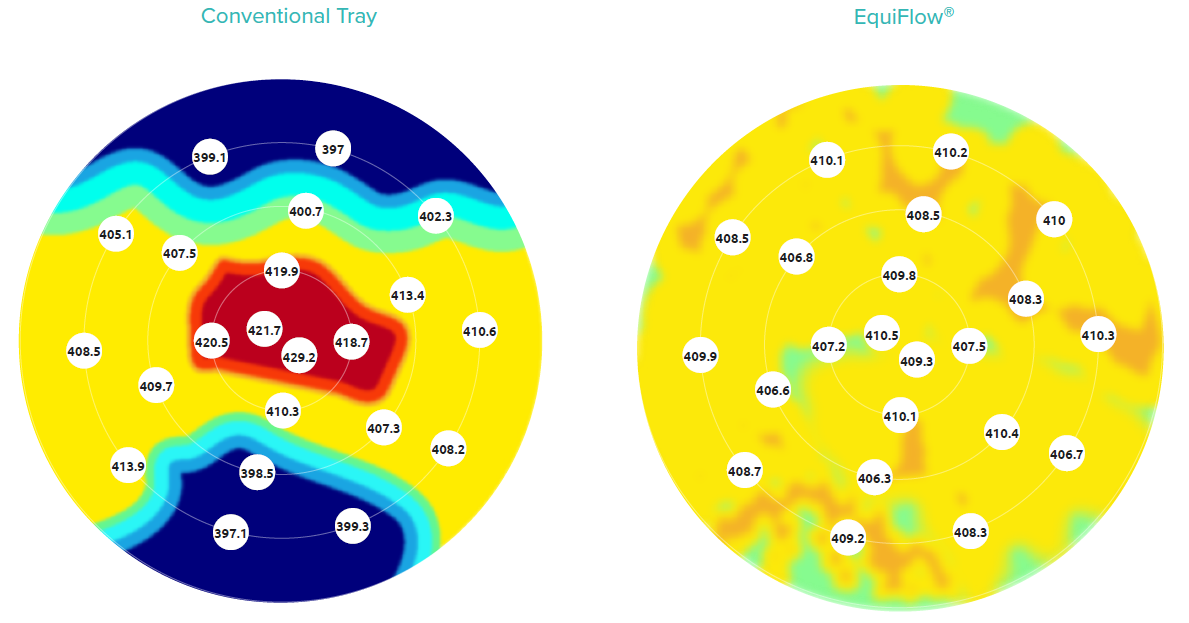 EquiFlow® Distributor Trays for Selective Hydrogenation Services
Combined with SeLene™, Axens family of selective hydrogenation catalysts, Axens proposes a unique and effective solution to boost unit performances.
EquiFlow® Quench system
The EquiFlow® quench system is designed to perfectly mix the effluents from the upper catalytic bed with a quench stream injected into the reactor. The mixture is then uniformly distributed before entering the lower catalytic bed. 
Hy-Quench-XM™, Hy-Quench-NG™ are new quench systems featuring a more compact design offering the possibility to load more catalyst within a given reactor volume, while improving the gas/liquid mixing. 
The Hy-Quench-XM™ is dedicared to hydroprocessing services, and the Hy-Quench-NG™ to selective hydrogenations which are suitable where exothermic reactions occur. 
Key advantages:
Compact installation  
Wide range of operating conditions 
Homogeneous Gas/Liquid mixing for better catalyst efficiency  
You might also be interested in
Catalyst Protection Systems
Impurities, fines, gums, scales and inorganic matter can be carried over with the feed. While catalyst performance is steadily increasing due to constant innovation, they are often more sensitive to poisoning.
Discover
Contact Us
Please fill in the form below to get in touch with us